Benefits of Mobile Decanting
Wine recovery is usually 99%.
Process 150+ cases per hour.
Rapid processing of product minimizes oxidation (final tank usually increases only .8ppm compared to bottle).
Process all standard cork finish bottles in 375ml, 750ml, 1.0L and 1.5L sizes.
Efficient and Discreet
Although all decanting projects are strictly confidential, references are available upon request.
Decanting Coordinator, 707.745.4444: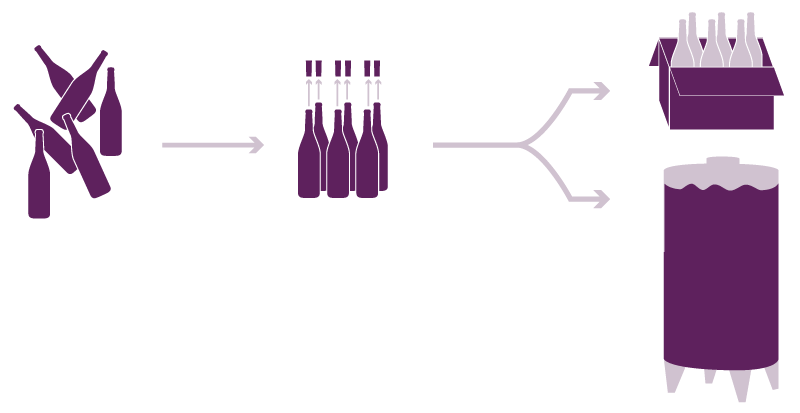 ---
Our Operation
Our equipment is housed in a 45 foot trailer which is transported to the winery.
We provide an operator/mechanic to maintain the equipment to run at a rate of 50+ bottles per minute.
Four to five additional winery workers are required to handle case goods, open cases, etc.
200 cases per hour is standard, but an experienced crew can achieve greater speeds.
We require either 240V with 60 AMP service or 480V with 30AMP service.
The Process
Filled bottles are loaded onto an unscrambler and conveyed to a six-head cork removal station.
Stainless steel cork screws are automatically inserted into the bottle to remove the cork. In most cases, the capsule remains intact.
Uncorked bottles are then conveyed into an enclosed stainless steel housing where the bottles are inverted, decanting wine into a small stainless trough which is immediately pumped into a tank while being sparged with nitrogen.
Empty bottles are conveyed to a packing table where they are replaced into their original cases or packed into recycling bins.